National Service Programs

AmeriCorps – Volunteers in Service to America (VISTA) Literacy by 3rd grade program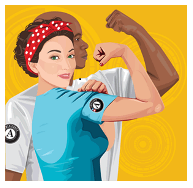 HandsOn Central California with the support of the Corporation for National and Community Service (CNCS) manages the The Third Grade Reading Challenge Project.
The VISTA project focuses on ensuring that by the time students reach the 3rd grade, they will be proficient in reading, in order to be academically successful through graduation. Research shows that proficiency in reading by the end of third grade enables students to shift from learning to read to reading to learn, and to master the more complex subject matter they encounter in the fourth grade curriculum. Most students who fail to reach this critical milestone falter in the later grades, often drop out before earning a high school diploma, and struggle for the rest of their lives. In Fresno County, 2010, only 40 percent of Grade 3 students scored proficient or higher on English Language Arts California Standardize Test measure, lower than the state average of 44 percent of students. The following issues contribute to students not reaching proficiency levels prior to the end of third grade:
English Language Learne
Need Free and Reduced Lunch
Homeless and Foster Children
Lack of routine in home learning activities
History of health related issues
Check us out and learn how you too can make a DIFFERENCE!
---
WHY BECOME AN AMERICORPS MEMBER:
Serve the Community
Build Your Skills
Be a Vital Part of a Community and a Team
Prepare for Your Future
OTHER BENEFITS:
Monthly living stipend
Health insurance benefits
Education award of $5,550
Child care benefits
For more information contact Gurprit Jhujj at (559) 237-3101info@handsoncentralcal.org or www.americorps.gov