Telebuddies

Telebuddies is a program designed to connect older adults to one another over a friendly phone call. Make a new friend over the phone. Laugh while sharing a cup of coffee while you chat about your favorite fishing hole or swap your favorite recipes. What you talk about is between you and your new friend as you get to know one another. The goal of this program is to promote a fun virtual way for older adults to connect with each other to help prevent feelings of social isolation and loneliness.
There are two ways to participate in the Telebuddies program.
Sign up to receive a weekly phone call from an RSVP volunteer.
Sign up to be an RSVP volunteer making phone calls to older adults who have requested a phone call.
If you would like to sign up to receive a weekly phone call then please fill out the Telebuddies Participant Registration Form. You can download the form in English or Spanish and return it to HandsOn Central California via email, fax, or snail mail or you can fill out the form online below.

If you would like to sign up as an RSVP Volunteer with the Telebuddies Program you must be at least 55 years old and fill out an AmeriCorps Senior RSVP volunteer application in English or Spanish. Please fill out the application and return it to us via email, fax, or snail mail or fill out the form below.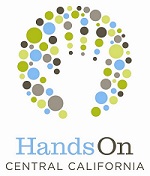 HandsOn Central California
732 N. Van Ness Ave Fresno, CA 93728
Phone: (559) 237-3101
Fax: (559) 237-6860
info@handsoncentralcal.org
Telebuddies is a program supported by AmeriCorps Seniors.