Literacy by 3rd Grade Program
MISSION
To help students gain reading proficiency by the time they enter 3rd grade.
VISION
That all students read at grade level and graduate high school with the skills needed to go to college and/or enter the workforce.
HISTORY OF THE PROGRAM
The Literacy by 3rd Grade Program began with a partnership between HandsOn Central California, Fresno Unified School District, and Selma Unified School District with the support of the Corporation for National and Community Service (CNCS) in 2014-2015 academic school year at Greenburg Elementary School, Lowell Elementary School, and Washington Elementary School. Since the pilot year, our program has expanded 18 different elementary schools. We are currently working with 14 Fresno Unified Elementary Schools and 1 Merced Unified Elementary School.
HOW DOES OUR PROGRAM WORK?
With the support of the Corporation for National Community Service (CNCS), AmeriCorps VISTA members serve at an elementary school. During their year of service, they develop sustainable volunteer programs and strategically access volunteer tutors into the pipeline of Transitional Kindergarten through 3rd grade classrooms.
AmeriCorps VISTA members recruit, train, and place volunteers to work with struggling students to help them improve their literacy skills. Volunteer tutors are asked to commit to at least one to two hours per week for a semester. Volunteer tutors are placed in classrooms and work alongside teachers while tutoring students one-on-one or in small groups. The consistency of our volunteer tutors is what makes a difference in a child's life. This is what makes our program unique and successful.
OUR IMPACT
Since the inception of our 2014-2015 pilot year, we have seen phenomenal results. Comparison of degrees of reading powers pre and post literacy assessments results showed that children supported by volunteers improved in key areas of literacy growth such as phonological awareness, reading fluency, and comprehension. Survey research conducted by out AmeriCorps VISTA members indicated that students who received help from a volunteer tutor saw social emotional learning gains and better attendance.
Impact results from inception to Fall 2018 Semester:
5,989 students

have benefited from the program

870 volunteer tutors

have helped students enhance their literacy skills

38,462.11 hours

have been donated by our volunteer tutors

5 sustainable school sites
Are you interested in volunteering with our program? Download the Application.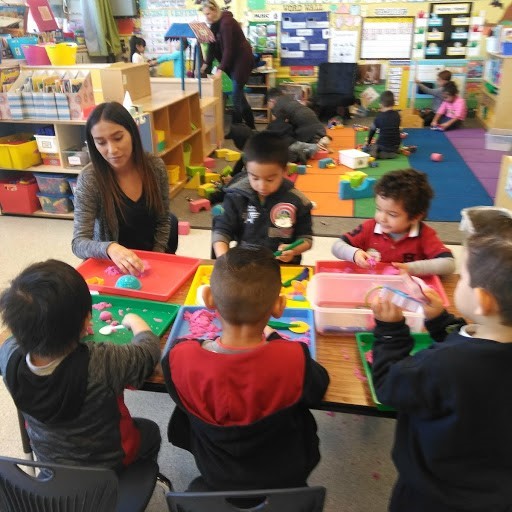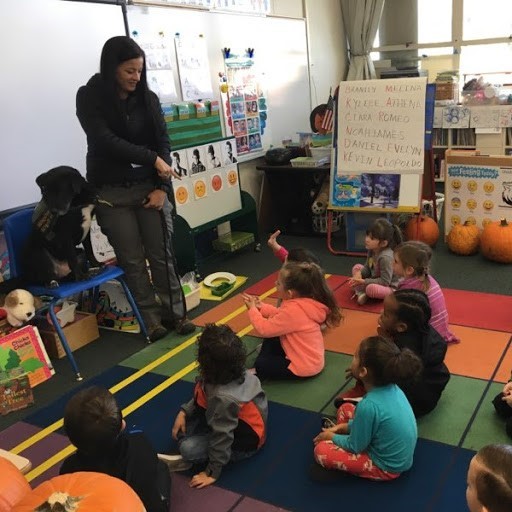 Anecdotal evidence from School Faculty Members from 2017/18:
"The program has been useful in helping my two lowest students and has helped them academically to meet grade level standards for K2nd and KCC from 1 to 2." (Teacher at Balderas Elementary School)
"I am very appreciative for this program, the volunteer has made it easier for me to teach and support students that normally would not accomplish anything. He is a positive role model and my students enjoy his presence in the class." Guadalupe Zinzyn-(Second Grade Teacher at Williams Elementary)
"The volunteer that comes into my class has done a great job at helping my students during our RTI time. My male students have developed a good and positive relationship with my volunteer." Cristal Salcido-(Third grade Teacher at Muir Elementary)
"Ms. Jas has been such a great help to our classroom. The kids enjoyed her presence and interactions. She is a great individual that completed all tasks assigned in a timely manner. I would love to have her in my classroom every day. Having her running groups at learning station when she's here has been so beneficial not only for me, but the kids as well." (Teacher at Kirk Elementary)
Anecdotal evidence from School Faculty Members from 2016/17:
"I have enjoyed having volunteers in the classroom. So far they have been very helpful and have shown great caring for our students. The program has made an impact several times since I have had a volunteer in the classroom, the students have benefitted from activities that needed adult supervision or direction and they were able to do it because of the volunteers. Some of the things that volunteers have help with are reached out to help student who have questions or needed help and teacher was tied up helping someone else. The students loved the volunteers in our classroom. They always get excited to see them walk in the door." Maria Rios-Garza- (Kindergarten Teacher at Slate Elementary)
"I think the program is fabulous, Mrs. Eddy works with students and I give her to work on focus skills. She is dependable, and students respond well to her. Students love her, they all want time with her. Currently she devotes he majority of the time to the Syrian students. I have 4." Mrs. Tanimoto- (First Grade Teacher at Wolters Elementary)
"It's been great having a volunteer in the classroom, especially since I have some non-English speakers. My volunteer worked with my English learners to learn basic foundation skills and newcomer day social skills. The students looked forward to have her come every Thursday. I would rate this program a 10 because it's great." Nina Kong- (Second Grade Teacher at Wolters Elementary)
"The program has proven to be a wonderful resource to our students and staff. The program has made an impact in our school because it's currently serving 60 students in small group tutoring and several classrooms have volunteers helping them as well. The students appear to love working with the volunteers! And, they are showing reading progress under their tutelage-thank you! The program would be rated a 10-Daveon and his volunteers are helpful and appear to be making a huge difference in our struggling students, we have data that is tracking progress." Kathy Moser- (Principal at Farmdale Elementary)
"I am very thankful to have this program in place as it has allowed for a volunteer to join our class during reading and support struggling students. Our volunteer is friendly, reliable, knowledgeable, helpful, and teachable. The students and I accomplish more because she is here to help. Often times our volunteer works with 3-4 of my struggling students working on reading, phonics, and vocabulary. The volunteer has worked hard to build rapport with the students. They look forward to working with her each day. Our volunteer has been a vital member of our classroom community. She is constantly and consistently supports our literacy goals." Jessica Nelson- (First Grade Teacher at Farmdale Elementary)
"I love this program. It greatly helps in my classroom by providing and extra adult to work with small groups in language arts. I have noticed a great improvement in letter recognition and sight word recognition. I have seen great improvements in my lowest performing students both in letter recognition and sight word recognition. This also directly helps their reading performance. My students love the volunteer. They are excited every time they see her. I rate this program a 10 definitely! This is an awesome program that results in wonderful reading improvements in my students." Kim Copus- (Kindergarten Teacher at Farmdale Elementary)
"The program has worked extremely well with these volunteers. It has made a tremendous impact! She has made amazing strides with the students learning. She has read with students in need by sounding and or pounding out unknown words. She has tested sight words daily, so that the students have seen progress. The program would be rated a 10 because the students have made fantastic progress under her tutorage!" Mrs. Goudelock- (First Grade Teacher at Vinland Elementary)
Anecdotal evidence from School Faculty Members from 2015/16:
"I LOVE the volunteer program! I have a great volunteer from the Fresno State teaching program. She enjoys being with my students and I am able to train her on specific autism strategies. I am hoping she will return to do her student teaching with me!" Janna Kam- (Preschool Teacher Autism SDC at Susan B. Anthony Elementary)
"The volunteer has helped me maintain organization structures so that class time is focused on students. She also supports students who need extra attention. She sits with students who need extra time to complete projects. Especially writing having someone who can stay with the child helps them persevere." Pangia Yang-(Teacher at Susan B. Anthony Elementary)
"This is a great program. I welcome it at my site. My volunteers have played a major role in my students' success. My volunteers have helped students stay on task, learn their sight words, practice blending sounds, and reading. I hope this program will continue at our site." Karrie Hovnanian-(Teacher at Susan. B. Anthony Elementary)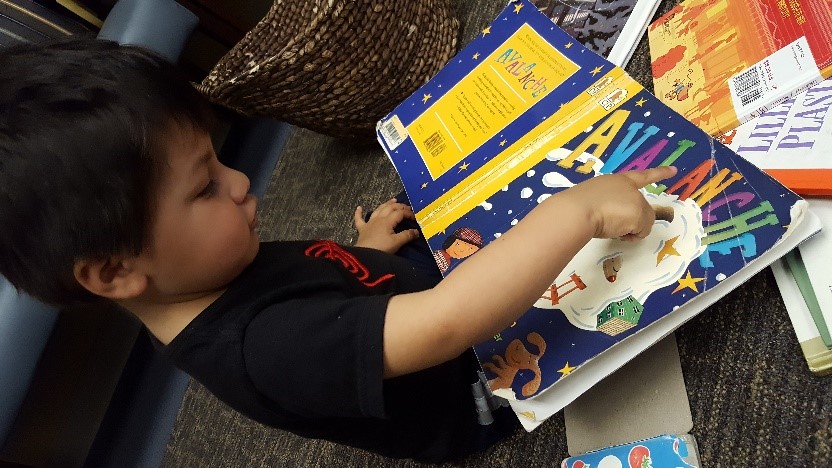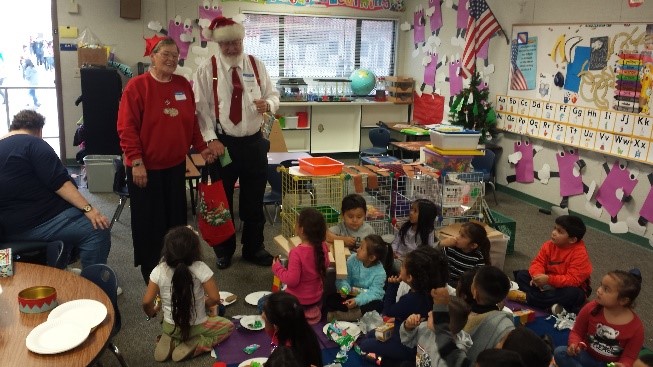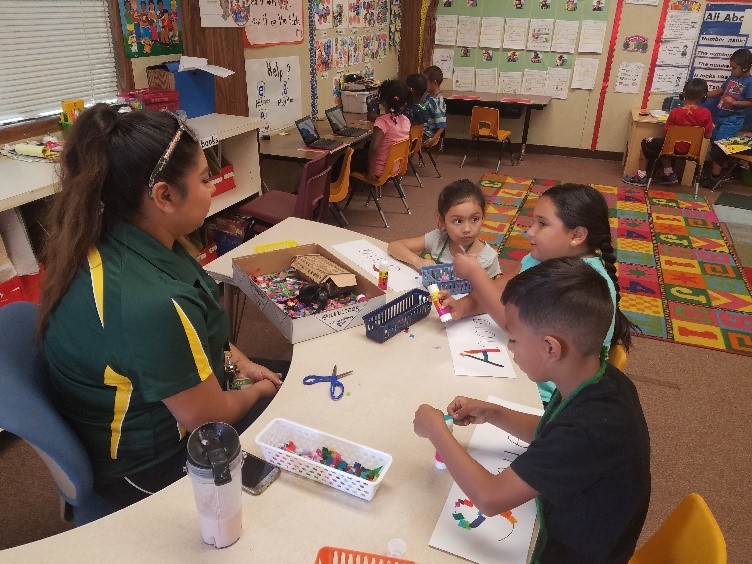 Made Possible by the Corporation for National & Community Service.