"Volunteers do not necessarily have the time; they just have the heart." -Elizabeth Andrew
In 1968, HandsOn Central California began hosting the annual Hands Across the Valley Volunteer Awards Luncheon in recognition and celebration of our community's volunteers. This heart-warming event honors individuals and groups, who have made a difference by generously giving their time and talent to improve the quality of life in our Valley. The event raises the profile of civic engagement and advocates for citizens to make positive change in their communities.
This event honors individuals and groups who have made a difference by generously giving their time and energy to address challenges in 5 counties: Merced, Madera, Fresno, Kings, and Tulare.
Past Winners
We would like to thank all of our nominees and nominators for all the community-changing work they do and for supporting Hands Across the Valley. The winners are listed below

HandsOn Central California received 95 outstanding nominations about amazing volunteers from across the Central Valley. Using a cadre of Central Valley stakeholders to review and rank applications, specific individuals stood out for each category.
HAVA 2017 Winners
Corporate/Business Volunteer or Group

Fresno Rescue Mission and St. Vincent De Paul


College Student Volunteer of the Year Awardee

Jackie Espinosa, Community Food Bank


Health Care Volunteer

Kathy Flaherty, American Cancer Society Cancer Action Network, Inc.


Service Club/Organization

Fresno Adventist Academy


Parent Volunteer

Shannon Warmack, Farmdale Elementary School


School Volunteer

Teresa Holdman, Mario G. Olmos Elementary School


Love of Animals

Robin Bell, Friends of Madera Animal Shelter


RSVP Volunteer

Vallorie Borchardt, Girl Scouts of Central California South


Youth Volunteer

Emiko Diaz, Valley Animal Center


Adult Volunteer

Nancy Kast, Fresno County Library


Lifetime Achievement

Deborah Riordan, Central Valley Veterans
Kathy Flaherty, American Cancer Society Cancer Action Network, Inc.


Presentation of these awards and recognition of all nominees will be held at a luncheon, April 26th, 2017 at the Veterans Memorial Hall in Clovis CA.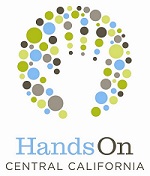 ---
Tickets for Hands Across the Valley can be purchased through Eventbright.

Interested with being a Hands Across the Valley Sponsor?

Look over the available sponsorship. All sponsorhip packages are available for purchase through HandsOn Central California.

For information about sponsorship, or to purchase a sponsorhip contact HandsOn Central California at (559) 231-3101 or by email cdavies@handsoncentralcal.org

Sponsorship Information PDF click here.
Click here to go to our sponsorship page.